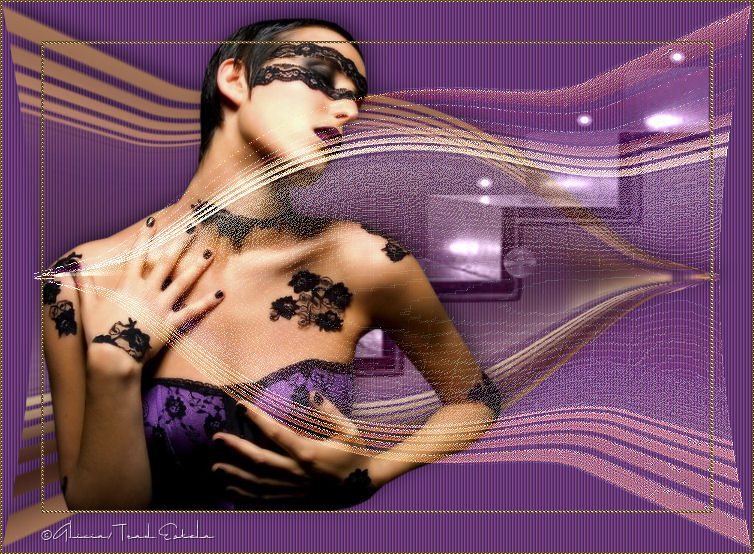 MORADO
Tutorial de ©Alicia.Original Aqui. Obrigada Alicia pela sua autorização.

Materiais Necessários:
Tubes Ninauso_Stairs
Tube_Beauty_Ekue_Dragonblu0508
Pattern Goldbeads
Mask cmv001.jpg
Realizado na versão PSP9
1. Abra uma nova imagem transparente de 750 por 550 Px.
Preencha com a cor #7f4592.
Selections. Select All.
Copie o tube da mulher e cole na seleção.
Selections / Select none.
3. Effects/Image Effects/Seamless Tiling (Default)
4. Adjust Blur/Gaussian Blur/Radius 30
5. Layers, new mask layer from image / cmv001
Layers, merge group.
6. Effects/Geometric Effects/Perspective Horizontal/100/Transparente
7. Effects/Distortion Effects/Warp 0/0/70/50
8. Effects/Distortion Effects/Lens Distortion .
Pincushion 0/0/50/Transparente
9. Layers / Duplicate
Layers/Merge/Merge Down
10. Layers / Duplicate. Image/Mirror. Image/Flip
11. Mude o Blend Mode da Layer para Screen
12. Layers / New raster layer
Layers / Arrange send to bottom
Preencha com a cor #7f4592
12. Effects/Texture Effects/Blinds: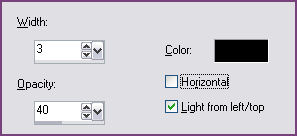 13. Ative a layer do alto da Pilha
Effects/Artistic Effects/Enamel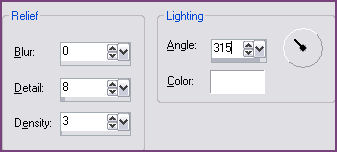 14. Effects/Edge Effects/Enhance
15. Nova layer. Selections/Select All.
Selections/Modify/Contract 40
Selections/Modify/Select Selection Borders

16. Preencha a borda com a Pattern Dourada(Angle 0/Scale100).
Selections / Select None
17. Copie e cole o tube da mulher entre as duas layers da Mask
18. Effects/3D Effects/Drop Shadow: -5/5/50/25 cor #000000
19. Aplique a mesma sombra na layer de baixo (Group Raster 1)
20. Copie e cole como nova layer o tube da escada (abaixo da layer da mulher)
21. Adjust/Hue and Saturation/Colorize: 202/91
22. Mude o blend Mode da layer para Luminance/Legacy
23. Image/Add Borders/2 Px. cor #ffffff.
Selecione a borda e preencha com a pattern Dourada.

Selections / Select none.
24. Assine, merge all e export como jpg otimizado.
©Tutorial de Alicia, traduzido por Estela Fonseca em 03/11/2009.
Não alterar nem repassar sem autorização.