FULL OF COLORS
Tutorial de Alicia , original, Aqui. Traduzido com a permissão da autora.

Esta lição foi criada em PSP X3 mas pode ser feita em outras versões
Materiais Necessários:



GINATUBE FEMME 984
Word Art Full of Colors_aliciar
Marca d'água tutorialespspaliciar




Plugins Utilizados:

Plugin VM Toolbox/Grid


Começando


1. Abra uma nova imagem transparente de 900 x 600 Px.
Preencha com o gradiente formado pelas cores #085b89 e #567b30
Configuração Angle 90 , Repeats 0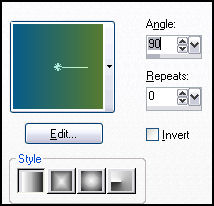 2. Layers / New Raster Layer
Preencha com a cor #085b89.
Selections/Select All.

Abra o tube GINATUBE FEMME 984 / Copie e cole na seleção.
Selections / Select None
3. Effects/Image Effects/Seamless Tiling / Default

4. Adjust Blur/Radial Blur:

5.Effects/Edge Effects/Enhance More.
Mude o Blend Mode da layer para Luminance.

6. Adjust/Sharpness/High Pass Sharpen
7. Copie o tube GINATUBE FEMME 984.
Cole como nova layer
Image / Resize / 90%, desmarque a opção all layers
Coloque do lado direito da tag
8. Effects/3D Effects/Drop Shadow: 12/29/54/33,33/#000000
9. Layers / New Raster Layer
Effects / Plugin / VM Toolbox/ Grid: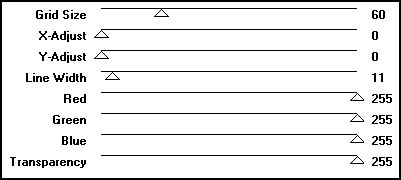 10. Effects/Geometric Effects/Circle/Transparent

11. Effects/Image Effects/Offset: -69/0/Custom / Transparente
12. Effects/Image Effects/Page Curl. Color #00c000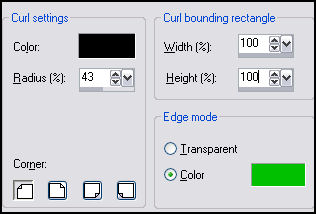 13. Effects/3D Effects/Drop Shadow: 8/7/100/0/ Cor #085b89
14. Copie a layer com a Word Art Full of colors_aliciar e cole como nova layer
Posicione
15. Adicione borda a gosto

16. Coloque a marca d'água tutorialespspaliciar
Layers, Merge , Merge All
File Export / JPEG Optimizer.
©Tutorial traduzido por Estela Fonseca em 31/07/2010.
Não alterar nem repassar sem autorização.